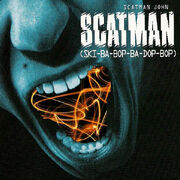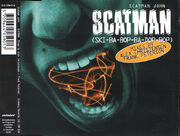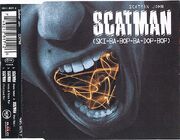 The first mainstream hit single from Scatman John. This was the track that propelled him to chart success in the summer of 1995. It deals with him outing himself as a stutterer and proclaiming that we can all overcome our problems if we just try. Some of the lyrics were taken from his 1986 album.
The video was shot in black and white featuring a fractured screen with several boxes showing shots of John singing along with various random people dancing, miming and playing drums. This was played in heavy rotation on music channels in 1995. He also performed the song live on BBC's Top Of The Pops show and MTV's Most Wanted with Ray Cokes.
In 1996, Robert Gant appeared in 15- and 30-second Good Humor ice cream commercials with lyrics changed to "I'm the Good Humor Man".
The commercial begins with the familiar Good Humor truck driven by Good Humor's ice cream hero, who announces his mission. Pied piper like, he passes out Good Humor bars, cookie sandwiches, and sundae cones to an ever growing crowd of children. He leads them through techno routines, and then signs off with a word of advice "Get into a Good Humor".
The song has been used in the films "Nothing To Lose" starring Tim Robbins & "BASEketball" starring Trey Parker and Matt Stone.
UK Release
Edit
Scatman (Ski Ba Bop Ba Dop Bop) - Basic Radio
Scatman (Ski Ba Bop Ba Dop Bop) - Pech Remix
Scatman (Ski Ba Bop Ba Dop Bop) - Arena Di Verona Mix
Scatman (Ski Ba Bop Ba Dop Bop) - Third Level Mix
European Release
Edit
Scatman (Ski Ba Bop Ba Dop Bop)
Scatman (Ski Ba Bop Ba Dop Bop) - Jazz Level
Scatman (Ski Ba Bop Ba Dop Bop) - Second Level
Scatman (Ski Ba Bop Ba Dop Bop) - Third Level
Scatman (Ski Ba Bop Ba Dop Bop) - Game Over Jazz
Scatman (Ski Ba Bop Ba Dop Bop) - New Radio Edit
Scatman (Ski Ba Bop Ba Dop Bop) - Pech Remix
Scatman (Ski Ba Bop Ba Dop Bop) - Arena Di Verona Mix
Scatman (Ski Ba Bop Ba Dop Bop) - Extended Radio Mix
US Release
Edit
Scatman (Ski Ba Bop Ba Dop Bop) - Basic Radio
Scatman (Ski Ba Bop Ba Dop Bop) - Spike Radio Edit
Scatman (Ski Ba Bop Ba Dop Bop) - Jazz Level
Scatman (Ski Ba Bop Ba Dop Bop) - Third Level
Scatman (Ski Ba Bop Ba Dop Bop) - Spike Dub
http://scatmanjohn.wikia.com/wiki/Scatman_John_Wiki Back Home