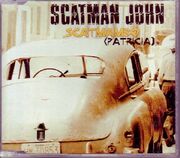 This was the first single from John released after the "Everybody Jam!" album. The song, subtitled Patricia, is a variation on the Perez Prez Prado song of the same name. This song was used in the German film "Love Scenes From Planet Earth" or "Das merkwürdige Verhalten geschlechtsreifer Großstädter zur Paarungszeit" to give it its German title. The song was used in the trailer for the film. It also turned out to be the first single from the "Take Your Time" album.
There was a Japanese Promo CD which includes the title as "Scatmanbo" rather than "Scatmambo". There was also a 2 Track promo CD released in a cardboard sleeve.
As far as I know there was no music video made for this song, probably owing to Johns poor health at the time.
European Single
Edit
Scatmambo - Commercial Radio Mix
Scatmambo - Punching Radio Mix
Scatmambo - Punching Dancehall Mix
Scatmambo - Havanna Extended Mix
Scatmambo - Latin Short Mix
Japanese Scatmanbo Promo
Edit
Scatmanbo - Commercial Radio Mix
Scatmanbo - Puching Radio Mix
2 Track Promo CD
Edit
Scatmambo - Commercial Radio Mix
Scatmambo - Havanna Extended Mix
http://scatmanjohn.wikia.com/wiki/Scatman_John_Wiki Back Home