This was the follow up to "Su Su Su Super Kirei" and the second Japanese exclusive single. It was a 3 inch CD single with the lyrics printed inside. This was used in the commercial to advertise Prin Pudding.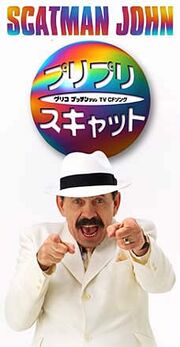 There were three commercials made to advertise the pudding. Each one featured John in a white suit with a bunch of Japanese children and adults singing and dancing and enjoying the pudding snack.
The version of "Scatman's World" on the single is totally different to the album version. The tune sounds like it is played on an organ and it features different lyrics.
There is a Japanese group called "Voices Of Japan" who recorded a version of this. It's in Japanese and does not appear to utilise Scat-singing.
Track Listing
Edit
PriPri Scat - Radio Edit
PriPri Scat - Love Together Mix
PriPri Scat - Karaoke
Scatman's World - Album Version
http://scatmanjohn.wikia.com/wiki/Scatman_John_Wiki Back Home